Click on an instructor's name to read their full bio.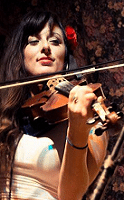 Erin Duffy (violin, piano, voice, guitar)
Erin is a songwriter, vocalist, and multi-instrumentalist who has been singing since she was 5, started musical training at 9, and was performing by age 11. In addition to competing in solo, IMEA, jazz, and state competitions, obtaining scholarships, and training with instructors in multiple styles, she also started her own band Under The Willow and with them achieved her life-long dream of sustaining a successful touring career. She has 4 years of teaching experience in jazz, pop, country, contemporary, bluegrass, and Celtic music. Her teaching method depends on the instrument but incorporates ear training, stretching, breath work, sight reading, scale work, songwriting, and performance-building skills. She loves working with students of all ages, including those with developmental disabilities, and believes that anyone, with patience, is capable of anything they put their mind to.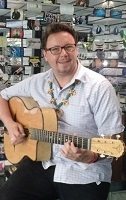 Terry Finnigan (guitar, mandolin)
Terry Finnigan has been teaching and playing guitar professionally around the Chicagoland area for the last ten years. He has studied music extensively since he was fourteen. His specialties include blues, rock, rockabilly, jazz, swing, bluegrass, celtic, and recently gypsy jazz. His years has an experiential educator at a team-building facility have given him a uniquely comprehensive approach to music and teaching. Terry loves teaching and guiding people to find their own unique musical voice.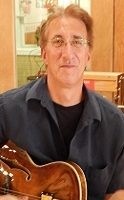 Frank Gatto (guitar)
Frank Gatto has been teaching and playing professionally for the last 35 years. Most recently, he has worked with The Usual Suspects, Sound Barrier, and a Tom Petty tribute band called Petty Profits. He is also an accomplished luthier, hand-building electric guitars under his own brand name Gatto Guitars. Frank teaches all styles of guitar, primarily blues, country, rock, and jazz. His specialties include improvisation, scales, modes/arpeggios/chords, theory, and sight-reading.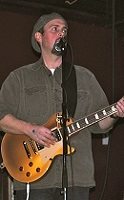 Eric Jensen (rock/blues guitar)
Eric Jensen has been playing guitar for thirty years. He appreciates all styles of music but specializes in blues-based classic rock. His favorite players include Clapton, Santana, Hendrix, and Stevie Ray Vaughan, along with improvisational icons Jerry Garcia and Trey Anastasio. Besides his years of experience performing with local bands including Speargrass, Twysted Fork, and most recently B.E.A.T. , he has a master's degree in elementary education. As a certified teacher and father of two, he understands how children learn. His objective as a music teacher is to impart his love for both music and learning to his students through the guitar.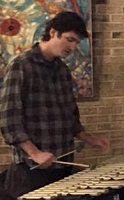 Patrick Keelan (drums, percussion, piano)
Patrick Keelan studied Music at Illinois State University, receiving a Bachelor of Music degree in Percussion Performance and later a Master's Degree in Music from Northern Illinois University. Patrick's music career includes being a full-time member of the Peoria Municipal Band for two summer seasons, running the Marching Band Front Ensemble for Bloomington, Morris, & Elk Grove High Schools, being a member of the Percussion Track Teaching Staff for Music for All, and four years as Drumline Coordinator for Robert Morris University. Currently, he stays busy teaching percussion in the Chicagoland area. Patrick also performs regularly on drumset and vibraphone with many groups in the area and is well versed in all percussion instruments and styles including classical, funk, jazz, and rock.
Eric Lambert (flatpicking/bluegrass guitar, mandolin)
Eric Lambert has been pickin' and grinnin' his way into people's hearts for over 40 years. Specializing in the fiery art of flatpicking, he has built a distinguished career writing, performing, recording, and teaching Americana music in and around Chicago, and beyond. His original music collection contains three solo albums and one band album (Eric Lambert & Friends), produced and released on his own label, Woodpicker Music. For the past 35 years, Eric Lambert has been professionally teaching music, including the art of flatpicking and bluegrass. Eric believes teaching music is about more than just giving lessons; it should be a full musical education experience. Even further, he knows music can transform lives. For 15 years, he taught music therapy to union employees, utilizing music and the guitar to help increase self-esteem, relieve stress, improve teamwork through a social activity, and offer a creative, beneficial hobby. In his own words, "Knowledge is a gift that is meant to be shared with others."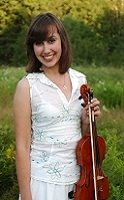 Miriam-Rose LeDuc (violin, viola, Scottish fiddle)
Miriam-Rose made her professional debut with the 2011 Columbus Scottish Festival. Miriam-Rose has received several awards for her music, including third place at the 2012 National Scottish Fiddle Championship, second place at the 2012 Ohio Scottish Games' open fiddle competition, and Most Improved Student at the Jink and Diddle School of Scottish Fiddling in 2011. She also conducted a workshop on Scottish music and dance at The Georgetown Day School in Washington D.C., and founded the Highland Lads & Lassies Summer Scottish Fiddle and Dance Camp. She is now performing and teaching in the greater Chicago area after graduating from Indiana University's Jacobs School of Music with a degree in traditional Scottish fiddle music, ballet performance, and business.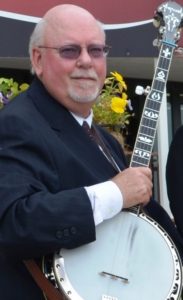 Phil Loranger (bluegrass banjo)
Phil started playing the 5-string banjo and guitar back in the folk music era where he started with the basic strum, frailing, and old time two-finger styles. His banjo style progressed into straight ahead Scruggs with influences from Doug Dillard, Don Reno, Ben Eldridge and Terry Baucom. He has been a member of the local bluegrass group Running Fox for over 20 years and in other groups going back to the 70's. His teaching style is coaching and showing, with the aim of getting each student to play by ear and working towards a usable knowledge of chords over the entire fret board rather than a reliance on heavy tab reading. Further goals for each student is to 1) have fun and enjoy bluegrass banjo, 2) learn to play well with others, 3) develop great music listening skills, and 4) develop a solid foundation which includes good backup, solid timing as well as good lead playing.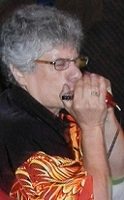 Albert Lukasik (harmonica)
Albert Lukasik was bitten by the harmonica bug as a teenage musician playing the tympani in The South West Symphony. It was only a short time before he heard the blues harmonica and gave up percussion to play harmonica full time. Since then, he's become a harmonica player, performer, teacher, and repair man. His musical journey includes studying under harmonica masters Joseph Filisko and Howard Levy. With them, he learned the secret behind over blowing and over drawing to play chromatic notes and to play in all 12 keys on one harmonica. He has played in Germany, France, Italy, Switzerland, Amsterdam, Austria, and Nashville, with many blues artists as well as commercial work for radio and television. On any given Sunday, Albert can be heard playing at the First Church Of God in Oak Lawn.

Pat Lyons (guitar, ukulele, mandolin, banjo, pedal steel, dobro)
Pat Lyons is a singer, songwriter, and multi-instrumentalist born and raised in the Chicago area. He plays guitar, pedal steel, mandolin, dobro, banjo, and harmonica with local, regional, touring, and recording bands. He applies his own lightening fast technique to different styles including blues, bluegrass, jazz, rock, and country.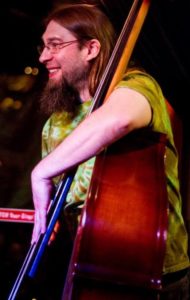 Tom Maslowski (bass, guitar, ukulele)
Tom Maslowski has been playing music for twenty-four years with a number of projects such as Mr. Grady, John Condron & The Old Gang Orchestra, Eric Lambert & Friends, The Tom & Becky Acoustic Duo, Colonel Chloroform, Play Do, Satellite Camp, Otter Finn, The Real Gone, End Transmission, and Alex Hoffer & Friends. He started with electric bass when he was fifteen. Since then, he has add guitar, upright bass, and ukulele. He also has fifteen years of teaching experience with students in a variety of genres of all ages and levels, including people with learning disabilities. It is Tom's goal to show people how to get more out of their instrument by simplifying musical concepts. The goal is to increase independance and awareness during jam sessions or performances.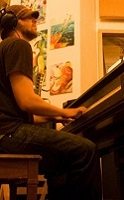 Matt McKinney (piano, voice, songwriting)
With over a decade's experience in the music industry, Matt McKinney is an accomplished songwriter having written for film, musicals, rock bands, and television. After writing his first musical in high school and being nominated in several statewide competitions for original music, he was accepted into Berklee College of Music's songwriting department. After graduation, he did a number of songwriting jobs including a PBS children's television show and numerous documentaries. He has also worked as a session pianist for genres spanning classical, folk, country, blues, rock, hip-hop, jazz, and indie rock. In 2013 he was the musical director for "Legally Blonde: The Musical" Muncie Civic Theater. He recently completed his first indie-rock LP under the name Sky Case. Mr McKinney's goal is to teach music by establishing the basic music fundamentals in every student along their musical journey.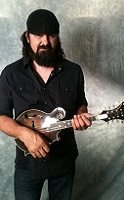 Pat Otto (mandolin, guitar, old-time banjo, dulcimer)
Pat Otto started playing music when he was 17 years old. Primarily a mandolinist, he also plays and teaches guitar, old-time banjo, and fiddle. He gained much of his musical knowledge and experience playing with American roots musicians in Kentucky and Arkansas. With tastes ranging from Americana to classical, Pat has performed with Leadfoot, Eric Lambert and Friends, Giles Corey, Alex Hoffer, and John Condron's Old Gang Orchestra at regional venues such as the John Hartford Fest, Frankfort Bluegrass Fest, Shoefest, and Nippersink. Pat's teachng style focuses on song structure, scale theory, technique, and improvisation.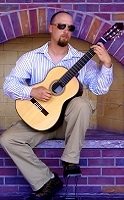 Scott Reichard (fingerstyle/classical guitar)
Scott is a classically trained guitarist, with a repertoire that spans five centuries and multiple styles. He spent a year in Los Angeles studying at Musician's Institute in Hollywood, where he studied with Grammy Award-winning classical guitarist/composer, Evan Hirschelman. Scott continued his studies at Prairie State College and joined the PSC jazz band, where he won a most outstanding player award at the Lake County Community College Jazz Contest. Scott holds an Associates Degree from PSC and currently studies classical guitar at Columbia College Chicago.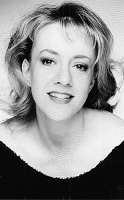 Lyndy Simons-Buglio (voice)
Lyndy received her Bachelor of Music and Master of Music degrees from Northwestern University. For 17 years, she sang professionally as a recital, concert and opera singer in the US and Europe for companies including the Santa Fe Opera and the Glimmerglass Opera. She is also featured on the CDCircle All Around Me singing Quatros Sonetos de Amor by composer Ron Warren. Lyndy has been teaching lessons and master classes for 10 years at numerous colleges in downtown Chicago and the Chicagoland suburbs. She enjoys instructing students of all levels (including beginners!) in all genres. Her students have been placed in college and university music programs at the undergraduate and graduate levels with scholarships based on the high quality of their singing and musical preparation. In contemporary music, she has students recording CDs, touring the US in bands, and appearing on American Idol and The Voice.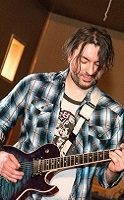 Matt Szlachta (jazz/rock/metal guitar)
Matt Szlachta is a world touring guitarist and recording artist who has been teaching for over fifteen years. He is educated in several genres including surf, jazz, rock, blues, country, neo-classical, Nintendo music, jungle space, and metal! Bands he has played with include Broken Hope, Chimaira, and Dirge Within. Matt's teaching method focuses on playing along, improvising, scales, rhythm, ear training, chord voicings, theory, sight reading, building a solid practice regimen, building repertoire, and enjoying your musical journey at your pace.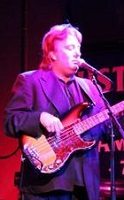 Bill Thorpe (violin, viola, cello, electric bass, guitar, ukulele)
Besides playing bass with such area bands as Burning Bridges and Petty Profits, Bill Thorpe has also made his mark on the orchestral strings scene playing cello with the Southwest Symphony Orchestra. Bill studied theory at Moraine Valley Community College, where he also taught Suzuki string classes. He has has been teaching his craft for 15 years and is highly adept working with students of all ages, be they beginners, seasoned veterans, or anywhere in between.

Carl Tosi (flute, clarinet, saxophone)
Carl Tosi has found himself in the role of band director, educator, competition judge, and performer during the course of his musical career. His performing background includes playing with the SIU jazz band, solo work on a cable station, flute/soprano sax for different religious organizations, and performing with local blues bands. Carl has been giving private lessons for over 25 years. He stresses technique, style and theory. His students can often be found sitting amongst the first chair players, as well as grading out with excellent scores at solo contests. He strives to get the best out of each student and carefully assigns lessons tailored to make his students all around better players.