Call us to enroll in private lessons now at (815)469-6321
5 Weeks for $135 (1/2 hour per week)
Lessons available Monday – Saturday for most instruments
Welcome to The Down Home Music School!
Down Home Guitars offers private music lessons and band classes on a variety of instruments for people of all ages and skill levels. Our mission is to provide a friendly, encouraging learning environment where people can develop their craft and better express themselves musically and creatively. Whether you are new to an instrument or have been playing for decades, the Down Home Music School will help you realize your goals while having fun!
The school offers lessons 6 days a week on a wide variety of instruments: guitar, bass, mandolin, banjo, ukulele, violin, piano, voice, drums, harmonica, dobro, pedal steel, clarinet, flute, and saxophone taught by our qualified staff of teachers. We pride ourselves on having a professional, clean music school with the focus on personal musical growth. We currently teach about 300 lessons per week, and the testimony of happy families is our best advertisement!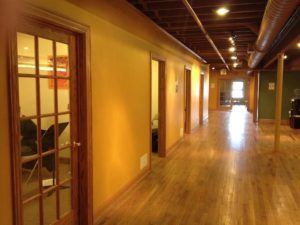 The Down Home Music School is located directly above the store on the 2nd floor of the Trolley Barn, easily accessible via stairs or elevator. Our spacious, wood-floored facility includes 6 carpeted/ insulated lesson rooms with glass doors, a piano/percussion studio, group classroom, recital stage, and large waiting area with complimentary refreshments.
We realize that everyone learns at different speeds and has different tastes. Because of this, the teachers at Down Home Guitars will build a curriculum for each student based on their strengths, weaknesses, and goals. All our instructors are highly skilled, highly trained, working musicians with a love for music and a passion for instructing future musicians for generations to come.
Private Lessons
At Down Home Guitars, our focus is personalized instruction. You will work one-on-one with your instructor who will determine your skill level and preferred direction and will build a curriculum tailored specifically for you.
Band Camp
Students who have achieved a certain level of proficiency on their instrument have the opportunity to join forces with other students to form a band. In band classes, you will get instruction from experts in the gigging band world, write and learn songs with students on other instruments, and perform at local events!
Instruments
Guitar
Bass
Ukulele
Mandolin
Banjo


Piano
Violin/Fiddle
Viola
Cello
Drums/Percussion


Voice
Harmonica
Flute
Clarinet/Saxophone


Mountain Dulcimer 
Instructors
Read more about our gifted instructors here!
Tuition and Policies
Tuition is $135 for 5 half-hour private lessons ($27 each). Instructor schedules vary, but spots are available Monday through Saturday depending on the instrument. Contact us for available days and times.
**All students are required to read and sign our School Policy Agreement when they enroll. You can download and read it here.**