Welcome to Down Home Guitars on the Web!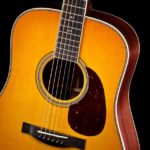 Down Home Guitars was established in 2008 to provide an atmosphere for those who appreciate fine acoustic instruments. We specialize in high-end handmade acoustic guitars, banjos, mandolins, and ukuleles by Bourgeois, Collings, Deering, Huber, Huss & Dalton, Lowden, Martin, Santa Cruz, Stelling, Weber, and others. While most music stores sell everything from drum sets to electric pianos, our customers will find our product selection and knowledge truly exceptional by keeping our focus narrow. Through our site you can browse by instrument type or brand, see what's new in the shop on our New Arrivals page, or peruse our collection of Used Instruments.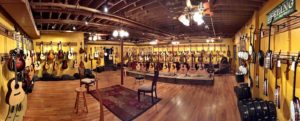 Our brick-and-mortar store is set in historic downtown Frankfort, Illinois, home of the IBMA-nominated Frankfort Bluegrass Festival and minutes from I-80 and Rt.45 (Lagrange Rd) and I-57 and Rt.30(Lincoln Hwy). We are located inside the Trolley Barn, a 100+ year old building with hardwood floors and numerous specialty shops. Upstairs, the Down Home Music School offers private lessons on a wide variety of instruments for people of all ages and skill levels. Even though our passion is small-shop, hand-crafted instruments, we also carry a selection of entry/mid-level instruments, accessories, and media, are a full repair shop for everything from restrings to neck resets, and host world-class concerts, workshops, bluegrass jams, and open mics. Whether you are a musician or music lover, we offer something for everyone, so stop by and experience these truly exceptional instruments!