Join us Saturday June 2nd as part of our 10 Year Anniversary for a very special in-store concert performance- John McEuen & The String Wizards present: Will the Circle be Unbroken. Tickets are $65 each and seating is extremely limited. Call 815-469-6321 to reserve tickets.



John McEuen is a founding member of The Nitty Gritty Dirt Band and the driving force behind their acclaimed landmark recording "Will The Circle Be Unbroken" in 1972. Heralded as an incredibly important and influential album, it is still a top selling record on Amazon. John has had many awards in his career including multiple Grammy Awards, Emmy Nominations, CMA Awards, The Western Heritage Award, the Charlie Poole Lifetime Achievement Award and more. He will be joined by Nitty Gritty Dirt Band members Les Thomspon and John Cable on bass and guitar, and longtime sideman Matt Cartsonis on mandolin and guitar.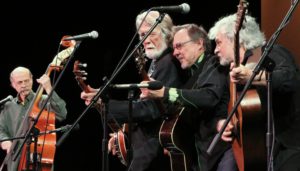 John McEuen brings with him 50+ years of worldwide performing with his banjo, fiddle, guitar, and mandolin. Often referred to as 'the String Wizard', he weaves stories of his travels and family life (he has raised 7 kids), taking us through where his musical path has taken him.
A Nitty Gritty Dirt Band founding member in 1966, John initiated the 1972 classic Will the Circle Be Unbroken album, (inducted in to the Library of Congress as 'one of America's most important recordings). Proud of being an integral part of America's first band to go to Russia (28 sold 0ut shows in 1977!), John's love of performing has been evident since his teenage Magic Shop days in Disneyland. McEuen's show takes us 'behind the curtain' of the music world that so many of us know of only as listeners and shows us how we have all been a part of it, more than we may know.
With music from 1800's to now, original songs laced with known hits, (his current Made in Brooklyn album earned the Independent Music Award's recognition as Best Americana album!), and a special tribute to the 'Circle' album music and its stories, it all comes to life in an evening of acoustic music in overdrive.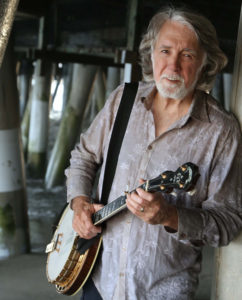 In 2017 Deering Banjo company introduced the "John McEuen model", complementing his induction into the American Banjo Museum Hall of Fame.
Upon release April 2018, his book – The Life I've Picked -débuted at #1 on Amazon's country music books chart.